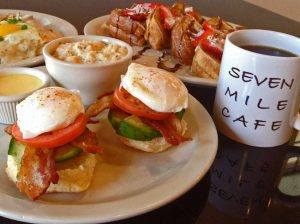 Seven Mile Cafe will open a new location soon in the old Prohibition Chicken space in Old Town Lewisville.
Co-Owner Kevin Klingele said he and his wife and co-owner, Josi, have been searching for a Lewisville location for several years, "but for one reason or another, it hasn't worked out." After Prohibition Chicken, 201 West Church St., closed at the end of the year, "the stars aligned" for Seven Mile.
"That building works really well for us," Klingele said. "It's got a bar, which we'll use as an espresso bar. The layout and look is right in line with the way we like to make the cafes look at other locations."
Klingele said he thinks Old Town Lewisville is on the verge of having the busyness and "natural energy" of the Denton Square, a popular destination for dining and shopping.
"For us, this is a big bet on Old Town Lewisville," Klingele said. "We think that area is amazing and a little bit undiscovered."
The first Seven Mile Cafe opened in 2011 in Denton and now has locations in Highland Village, Keller and north Fort Worth, which serve coffee, breakfast and lunch. The Lewisville location will have the same menu and hours of operation as the others. It is expected to be able to open in a few months, but there are "always unexpected delays" in the process of opening a new business, Klingele said.