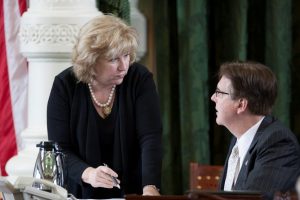 Texas State Senator Jane Nelson (R-Flower Mound) has been appointed Senate co-chair of the Texas Privacy Protection Advisory Council, which will conduct a review of state laws relating to individual privacy.
"Recent data breaches and cyber attacks underscore the importance of protecting personally identifiable information, and I look forward to leading this much-needed review of our laws to ensure that Texans have the tools they need to secure their data — and that the public is adequately informed about how their data is being used by third parties," Nelson said.
Nelson chaired the Senate Select Committee on Cybersecurity last interim and is the Senate's designee to the Texas Cybersecurity Council, according to a news release from her office. She authored three bills last session aimed at bolstering the state's cybersecurity infrastructure, coordinating statewide IT resources, and ensuring student data is protected. As chair of the Senate Finance Committee, she sponsored a budget that included over $1 billion to modernize information technology, replace legacy systems and strengthen cyber defenses at our state agencies.
The Texas Privacy Protection Council was established by HB 4390, which Nelson sponsored to initiate a thorough review of privacy laws. HB 4390 directs the Council to study that govern the privacy and protection of information linked to a specific individual, technological device, or household and make recommendations to the Legislature regarding the privacy and protection of Texans' information. The Council includes three members of the Senate, three members of the House, and several members of the public representing a vast array of industries and nonprofit organizations.
Nelson represents District 12, including portions of Tarrant and Denton counties. She is Chairman of the Senate Finance Committee and the highest-ranking Republican in the Texas Senate.