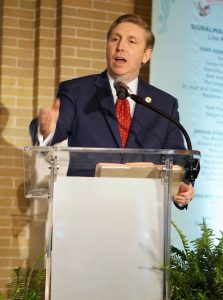 State Rep. Tan Parker, R-Flower Mound, was recently honored by TexProtects when he received the Children's Champion award for the work that he did on behalf of Texas' children during the 86th Legislative Session, according to a news release from his office.
"TexProtects has been an invaluable partner in the existing fight against child abuse and also in working to introduce measures that would prevent such tragedies from ever occurring in the lives of Texas' most vulnerable citizens in the first place," Parker said. "This session, I educated the Legislature about Adverse Childhood Experiences and the need for a plan to address our state's astounding rate of childhood trauma. Emerging science has uncovered powerful, preventive solutions that can change the trajectory for our families in crisis if we empower them with the knowledge necessary to tackle life's unique challenges. Whether we are working to prevent trauma or heal from it, it is critical that we focus our efforts on ensuring that each child has a supportive, healthy relationship on which they can depend."
Parker also championed the establishment of January 28th as Sexual Assault Survivor's Day in Texas (HB 2298).
"As we raise a new generation of Texans, it is critical that we continue to talk about this issue by celebrating those impacted by sexual assault not as victims, but as the courageous survivors that they are," Parker said.
Parker represents Texas House District 63, the southwestern portion of Denton County. He is focusing his efforts on promoting fiscally responsible government spending, property tax reform, and providing a vibrant education system, according to his office. Parker will also continue his work and advocacy for the protection of children, medical freedom, combating human trafficking, and has previously been highly recognized for his legislative successes related to abuse prevention, ending teenage homelessness, and public safety.