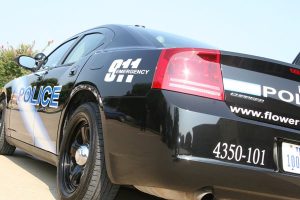 The following was compiled from Flower Mound Police Department incident and arrest reports:
On July 23, officers responded to a reported domestic disturbance in the 2900 block of Windsor Drive. Gavin Sumner, 18, was arrested on suspicion of assault causing bodily injury (family violence) and possession of a controlled substance.
On July 24, officers responded to a reported vehicle burglary in progress in the 2700 block of Ridgemere Drive. When they arrived, they found 27-year-old Grant Bishop in the vehicle. After his arrest for burglary of a vehicle and resisting arrest, police found several items in his pockets that belonged to the victim.
On July 31, police conducted a traffic stop in the 5500 block of Hwy 377. During the stop, a 24-year-old male passenger named Stanley Casillas was found to be in possession of a handgun that had been reported stolen in Irving. He is a felon, so he was arrested on suspicion of theft of firearm and unlawful possession of a firearm by a felon, as well as a warrant out of Dallas County for burglary of a habitation.
On Aug. 18 at 6:25 p.m., a car crashed into a tree in the 4300 block of Glenwick Boulevard. Witnesses said the vehicle was speeding and appeared to lose control before crashing. The driver, 30-year-old Blake Barkley of Bridlewood, was pronounced dead at the scene. No other people or vehicles were involved in the crash.
On July 2, HD Supply (550 Lakeside Parkway) reported that an employee had taken equipment and supplies valued over $75,000 from the business without permission between February and July. The suspect, Melvin Porter, turned himself in to police on Aug. 25.
On Aug. 14, a homeowner in the 3900 block of Willow Run Drive reported that a 22-year-old man the homeowner knows broke a bedroom window and threatened to assault the homeowner while climbing through the window. The suspect fled the scene before police arrived. He was arrested on Sept. 20 on a warrant for burglary of habitation.
Police are investigating several property crimes – such as vehicle burglaries and theft – that were reported Aug. 16 in the residential area around Golden Arrow Drive, Amhearst Court and Archer Court, among others.
On Sept. 27 at 9:15 p.m., Flower Mound police responded to the 900 block of Forest Vista Drive when a woman reported that a green sedan was driving on the wrong side of the road and hit her vehicle. The green sedan kept going and spun out in the median of the 1200 block of Forest Vista. The driver got out and tried to hide in the garage of a nearby home, but was found by police and charged with DWI.