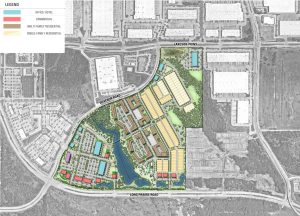 "We've been going back-and-forth for two years and it's time to come before you [P&Z] and get this thing rolling," said Lakewood applicant, Jim Wills of 5054 Development, who's the manager of assets for the development ownership group– Lincoln Properties, Darling Homes and JPI.
The rezoning request for Lakewood, a 122-acre mixed-use development proposed to be located on the north side of FM 2499 and on the eastern side of Silveron Boulevard, between Southgate and The Point developments was presented at the Planning and Zoning Commission meeting on Monday and did not pass muster with commissioners.
The project includes 244,800-square-feet of office, 46,000-square-feet of retail, 23,000-square-feet of retail/restaurants and a 79,200-square-foot hotel.
There are also various types of residential proposed– 164 single-family detached homes will have minimum lot sizes of 3,000-square-feet. The 850 apartments would range between three to five stories. The total residential construction represents under 35 percent of the Lakewood development.
In his presentation, Jim Manskey, principal with TBG Partners, Dallas, said: "Lakewood is planned to create a holistic strategy central to the Lakeside Business District: "A hub … to provide a very walkable approach … with the intent to provide a high-quality regional development … to reduce the residential tax burden."
He pointed to the five-acre central lake that will feature a signature bridge spanning the narrow, middle section of the lake. Pedestrian plazas will be located on both sides of the bridge with esplanades for event access.
He added that the current Campus Commercial zoning privatized the lake, but it will be publicly accessible as open space under Lakewood rezoning.
Phase 1 would include 77 single-family homes and 425 apartments, only after construction starts on 50,000-square-feet of commercial space, which must include office space. Hotel-use space will not be included in Phase 1. Open-space requirements must also be met prior to any residential construction permits will be issued.
The first and foremost concern of the commissioners was the lack of elevations– especially for a hotel.
"In other municipalities, we have a 'place-saver' for specific uses and we think a hotel would be a good use here, but no brand at this point," said Wills.
To which Commissioner Brad Ruthrauff said: "You're selling this to the community. I don't see a 'wow-factor, because I can't envision what this is going to be. It's so blasé … very simple … not a lot of specifics and we're used to having more details. The public is probably saying, 'I have no idea what I'm going to get.'"
"We're not asking anything of you that we don't ask of others," said Commissioner Laura Dillon. "We have high standards in Flower Mound, this is part of the gateway into our town."
She pointed out that "flat" buildings are not what the town wants at the gateway into Flower Mound, referring to the waiver request for pitched roof conformity specified in design standards.
"It becomes 'what does staff want?'" said Wills. "We have spent a lot of dollars with architects responding to what staff requested and we don't seem to be getting there. So, I finally said, 'we're done.'"
The concerns about the number of waivers and modifications requested for the project, included: slope impact on 7.2-acres of 11.9-total-acres; internal compatibility and buffer requirements between the residential and two office buildings on the north end; the pitched-roof requirement for the office buildings; and, the unresolved lack of elevation designs for the commercial buildings and the hotel.
Despite the project's potential, commissioners said they had concerns on various aspects–particularly the density.
"It feels cramped to me," said Ruthrauff. "When we say that it's 34.6-percent commercial; well, the whole thing was supposed to be commercial."
Wills said it's difficult do provide exact elevations, when there are so many buildings proposed.
"We could get the hotel in 120 days, if we got the zoning," Wills said. "Everyone is sitting on the sidelines waiting to see what happens."
Commissioner Thomas Pickering specifically asked for information on whether other multi-family developments had such a high number of units-per-acre (45-units/acre), only having a 12-feet-wide fire pathway, as well as concerns about residents not using alleys and garages, in favor of on-street parking.
"What it [the previous TIA (Traffic Impact Assessment) report] shows today is woefully inadequate for what happens today," Pickering said. "And too many things have happened since the last report was done."
Commissioner Rob Cox said: "Lakeside has a common vision to it and we don't want a lot of variability within the project … for specific uses are for certain parcels. Can we make some agreement for set standards for residential areas; in a commercial zone, agree to an architectural design."
Ultimately, Pickering said: "I can't support both the compatibility and roof-system issues; don't like using public streets to satisfy resident parking; and the changes have been too many since the TIA study was presented."
"The number of exceptions that are sought … says to me that this is not the right proposal for this location at this time," said Commissioner Rob Rawson.
"Due to the cost of the land, trying to put it all in there … overall, it just seems a little dense," said Cox.
"I like that they've brought the restaurant/retail element to that part of town," said Commissioner Dave Johnson. "I have great respect for the three developers– Lincoln Properties, Darling Homes and JPI are all top-notch. We've got to start thinking bigger. We have to stop being so judgmental."
Denial of the rezoning request to Town Council was the recommendation with a 6-1 vote.