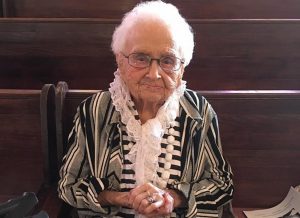 A local church will celebrate its 165th birthday this weekend with one of its members who turns 105 Sunday.
Flower Mound Presbyterian Church, 1501 Flower Mound Road, will have a special Homecoming event Sunday to commemorate its 165 years and Oleta Simmons Greer's 105th birthday. Greer has been a faithful member of the church since she was baptized at age 7.
The church service will begin at 10:30 a.m. with special music by soloist Josef Spencer and Dr. Brad Bennight, followed by a potluck luncheon and birthday cake. Former pastor Dr. David Fletcher, who shares a birthday with Greer, will preach.