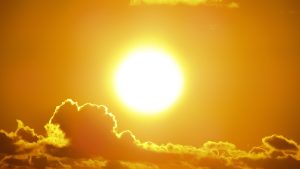 The National Weather Service has issued a Heat Advisory for all of North Texas on Monday, and an Excessive Heat Watch for Tuesday afternoon.
High temperatures around Denton are forecast to reach 101 degrees Monday afternoon, according to the NWS forecast, with a maximum heat index value of 108. On Tuesday afternoon, the high temperature is forecast to reach 103 in Denton with a dangerous heat index value of 113.
There will also be about a 20% chance of showers and thunderstorms late Tuesday afternoon that may be capable of strong or damaging winds. Scattered storms will be possible through Tuesday night into Wednesday morning. The high temperature on Wednesday is forecast to be 95.
Excessive heat that lingers for more than one day is especially dangerous because it doesn't give our bodies time to cool down, according to the weather service. Here are some heat safety tips for this hot stretch:
Limit strenuous outdoor activities, find shade
Drink water even when you're not thirsty.
Never leave kids or pets unattended in your vehicle, remember to "Look before you lock." When it's 95 degrees outside, it only takes 10 minutes for the inside of your car to reach 114.
Check up on the elderly, sick and those without air conditioning