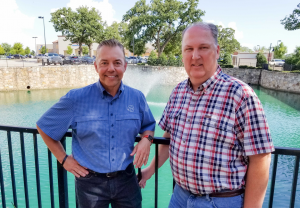 Three new businesses are set to move in soon to the Highlands Plaza shopping center at FM 407 and Chinn Chapel Road in Flower Mound.
Marty Bryan, sole owner of the popular restaurant Marty B's in Bartonville, is partnering with Alan Mann of Argyle to open a new restaurant in the space formerly occupied by The Table, 3701 Justin Road, which closed earlier this year.
Bryan and Mann, who used to work together for 13 years as Cotton Patch Cafe executives, are planning to open Rustico Wood Fired Grill and Wine Bar by October. Bryan said they are remodeling the space, with the intent that former Table customers won't recognize it.
The menu will feature organic steaks, fresh seafood, specialty chicken dishes, fresh salads, wood-fired pizzas, cocktails and a wide-array of wines. Rustico will be a totally different experience than Marty B's, Bryan said.
"The menu will be made up of food you can't get at Marty B's," he said. "Marty B's is the large party place. Rustico will be much smaller, with a more intimate setting for date night and small groups."
One thing Rustico will share with Marty B's, Bryan said, is that they aim to have all organic meats, and when possible, locally grown organic produce.
Rustico will share its building with two other new businesses, said leasing agent Tim McNutt of DBA Real Estate. Smoothie King will soon open up shop in the space formerly occupied by Snap Kitchen, which closed in December 2016. Smoothie King, which is based in Coppell, has a large menu of smoothies for different purposes, such as pre- and post-workout, wellness, lower calorie and sweet blends.
McNutt said that in the space between the future Smoothie King and Rustico, the Four Nines men's salon will re-lease to another men's salon called Tune Up – The Manly Salon, which will offer haircuts for men and kids, as well as shaves, beard trims, manicures, pedicures, shoulder massages, facials and eyebrow waxing.
McNutt said Friday that both Smoothie King and Tune Up are expected to open in the next three months.