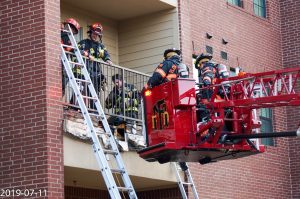 Local firefighters quickly extinguished an apartment fire in Highland Village on Thursday morning.
Firefighters from Highland Village, Flower Mound and Lewisville were dispatched at 7:20 a.m. to The District of Highland Village complex, located at 120 Main St. along FM 407. Upon arrival, firefighters saw smoke coming from the second floor balcony of an apartment, and they were able to quickly extinguish the fire, according to a news release from the city of Highland Village.
No one was injured and there was only minor damage to the deck of the second floor balcony, so no residents were displaced by the fire. The Highland Village Fire Marshal is investigating the cause of the fire.