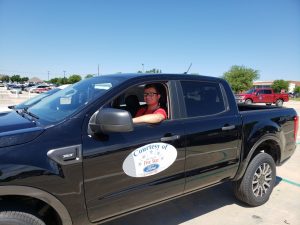 Local residents can help support a local nonprofit with a quick test drive on Thursday in Lewisville.
Sam Pack's Five Star Ford Lewisville is partnering with Ally's Wish, a local organization that grants last wishes to young, terminally ill mothers, for a Ford Drive 4 Ur Community fundraiser. The dealership will bring a bunch of new vehicles — including Mustangs and big pickups — to the parking lot at First Baptist Church Lewisville, 1251 Valley Ridge, for the community to test drive.
For each person who takes a test drive, Ford Motor Company will donate $20 to Ally's Wish, up to $6,000.
"I think Ally's Wish is an awesome organization," said Sue Bowman, community relations manager for Sam Pack's. "I'm excited to help them earn this $6,000."
The event will run from 10 a.m. to 7 p.m. Test drivers must be 18 or older.