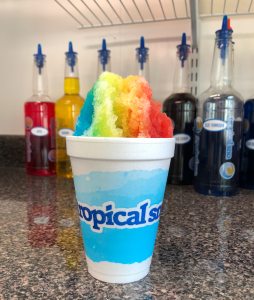 Tropical Sno, a Flower Mound snow cone shop that returned to town last year, won't open this summer.
The business announced on its Facebook page Thursday that it won't be able to open this season.
"We are so sad to tell you that due to serious health issues both co-owners are currently experiencing, we will be unable to open for business this season," the post said. "We believe in providing a high quality product with exceptional customer service and a positive overall experience. In order to do that, a high level of attention is needed which at this time due to health problems cannot occur satisfactorily."
Co-owners and entrepreneurs Trevor Overton and Preston Daniel grew up in Flower Mound, enjoying snow cones from Tropical Sno. They brought the nostalgia back last summer, opening up shop in front of the Walmart Neighborhood Market on FM 2499.