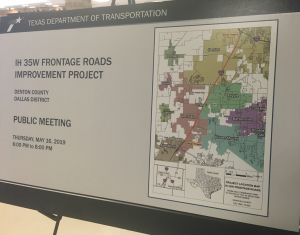 Local residents got a look Thursday night at the state's plans for frontage roads along I-35W in Denton County.
The Texas Department of Transportation hosted a public input meeting at Argyle Middle School with maps, aerial photographs and employees to explain what TxDOT's long-term plans are to expand the interstate from the Tarrant/Denton county line to the I-35W/I-35E split in south Denton.
Ryan Lafontaine, a local TxDOT spokesman, said at a previous meeting that TxDOT wants to expand I-35W in southern Denton County to try to keep pace with the area's rapid growth. The $1.1 billion project is split into two sections. TxDOT would begin by adding two-lane frontage roads on either side of the interstate from just south of the I-35 junction in Denton to Dale Earnhardt Way, about 16 miles. Similar frontage roads have already been constructed from Dale Earnhardt Way to the county line.
The first section, with an estimated cost of $350 million, is fully funded, Lafontaine said. In addition to constructing frontage roads, TxDOT also plans to convert overpasses at John Paine Road and FM 407 into underpasses. TxDOT plans to conduct a public hearing about the first section in early 2020, and construction is expected to begin in 2025.
The second, larger section of the project is the addition of one main lane for each direction throughout the entire 16.3-mile project.