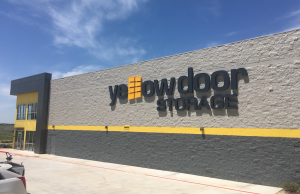 Yellow Door Storage, an 890-unit storage facility, has opened in the Argyle area.
The new storage facility is located at 812 Crawford Road, next to the new Wise Health Emergency Center and urgent care facility. The 77,000-square-foot, three-story climate-controlled building has eight traditional drive-up storage buildings behind it, according to a news release. It broke ground a year ago and opened for business earlier this month,
Denton-Based NorthBridge Investments — a development group focused on office, industrial and self-storage businesses — considered several potential sites in the Argyle area and chose this location because it close to several large housing developments and I-35W.
"We are excited to be a part of the community and to serve the storage demands of a growing population," said Bret Andrus, NorthBridge's managing partner.