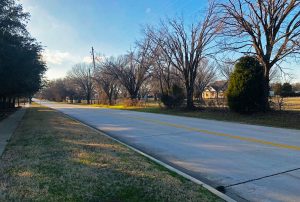 The town of Flower Mound has initiated the design phase of a project to alleviate flooding on Waketon Road, between FM 2499 and Townsend Drive, during heavy rains.
The Waketon Road at Timber Creek Drainage Improvements project will provide approximately 1,500 linear feet of channel improvements from FM 2499 to Waketon Road, and will replace the existing four culverts under Waketon with eight culverts, according to a news release from the town of Flower Mound.
When construction begins, the town will provide project updates.