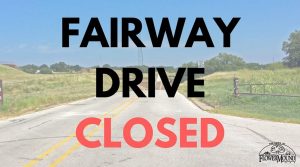 The town of Flower Mound has provided updates for local commuters regarding two major road construction projects: The closure of Fairway Drive, also known as the Dam Road, and the traffic pattern change from FM 2499 to eastbound Hwy 114/DFW Airport.
Neither project is under the control of the town of Flower Mound, but town staff is in contact with DFW Connector and the U.S. Army Corps of Engineers to express the frustration of residents and to request updates, according to a Wednesday news release from the town. Below is the latest information the town has received.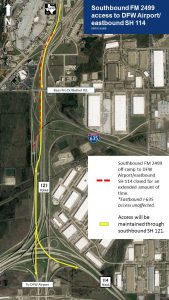 DFW Connector Project
The DFW Connector project is a Texas Department of Transportation reconstruction project that is adding lanes to Hwys 114 and 121 in the area between south Flower Mound and DFW Airport. Earlier this month, TxDOT closed down the southbound FM 2499 off-ramp to eastbound Hwy 114 and DFW Airport.The new traffic pattern allows crews to build portions of the new I-635 bridges as well as widen the roadway.
At the time of the closure, TxDOT had not indicated how long the change would be in place. The town said in the Tuesday news release that the current southbound traffic pattern, from FM 2499 to eastbound SH 114/DFW Airport, will be in place for about 18-24 months.
Fairway Drive (Dam Road)
The road across Grapevine Lake Dam, known as Fairway Drive or the Dam Road, was shut down in August by the U.S. Army Corps of Engineers as a precautionary measure while making repairs to the dam. It was originally expected to be closed until the end of the year.
Now, the town said in the news release, the road is expected to re-open in the spring. Weather and unforeseen construction issues could further affect the re-opening date.