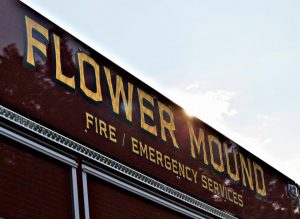 The Flower Mound Fire Department doused a 2-alarm house fire on Friday morning.
FMFD received a report of a two-story house fire at 10:22 a.m. in the 2200 block of Turtle Cove, located near Rheudasil Park, according to FMFD Spokesman Brandon Barth. Fire and smoke was showing from the rear of the house.
The homeowner wasn't home, but his dog was, Barth said. Firefighters rescued the dog and doused the fire, which seemed to have begun in the back of the house.
The cause of the fire, as of late Friday morning, had not been determined. The house was "significantly damaged" from fire, smoke and water, Barth said.
It was a 2-alarm fire, so FMFD was assisted by the Grapevine and Lewisville fire departments at the scene, and Highland Village, Argyle and Coppell firefighters helped cover other FMFD stations, Barth said.