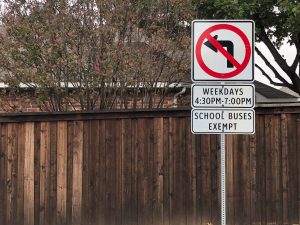 The Flower Mound Police Department is monitoring the intersection of Woodhill Road and McKamy Creek Road after receiving reports that drivers are ignoring a road sign.
Several months ago, a No Left Turn sign (between 4:30 to 7 p.m. on weekdays) was placed at that intersection after it was discovered more than 20,000 cars were traveling through that area per week, and multiple safety concerns expressed by the HOA about traffic volume, according to a town news release.
FMPD has received reports that motorists are not complying with the traffic sign and will be in the area to educate the public and enforce appropriately.