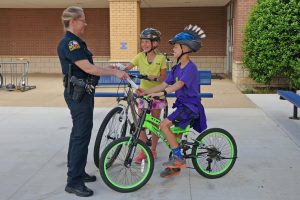 The Flower Mound Police Department is inviting the community to its first annual "Bike with the Blue" event next month.
Participants will be able to meet and take a ride with the FMPD bike units on Oct. 6 from 2-4 p.m., according to a town news release. There will be a beginner course and an advanced obstacle course, and the ride will start and end in the FMPD parking lot, 4150 Kirkpatrick Lane.
Before the ride, officers and volunteers will conduct bike safety checks and helmet fittings. For more information, contact Sgt. Jason Rachal at 972-8740-3392 or by email.