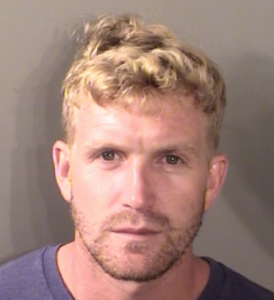 The Denton County Sheriff's Office has arrested a man accused of damaging U.S. flags at the Denton County Courthouse-on-the-Square.
On the evening of Sept. 10, a man was seen ripping down nine U.S. flags that are located all around the courthouse, according to DCSO Capt. Orlando Hinojosa. Reynolds was allegedly seen on video throwing two of the flags into the middle of the street.
Last week, the agency shared surveillance images of the suspect and asked the public for help identifying him. Thanks to a tip, the suspect was identified and law enforcement obtained an arrest warrant for 29-year-old Matthew Emerson Reynolds of Shady Shores. Reynolds turned himself in to investigators late last week.
According to Denton County Jail records, Reynolds remained in jail Tuesday in lieu of $10,000 bail for the Class B misdemeanor offense.