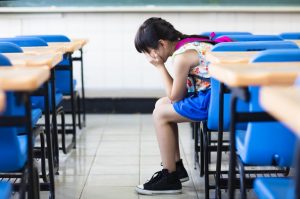 by Jessica Burrows
Although our children may moan and groan about the end of summer vacation, for most children, the beginning of the school year is an exciting time, full of promise. Each new school year entails new teachers, new classmates, and new possibilities. However with all this newness comes uncertainty and sometimes uncertainty can introduce stress and anxiety.
Signs of stress and anxiety can be displayed in a range of symptoms from mild to severe. Some of the symptoms of back-to-school stress and anxiety may include "butterflies in the stomach", spending a great deal of time picking out "just the right outfit" for the first day of school, being full of questions, or staying more quiet than usual.
More moderate and physical symptoms might include having trouble sleeping, decreased appetite, restlessness or irritability. Severe symptoms might involve tears, tantrums, or even refusal to go to school.
Identifying the source of these stressors and equipping your child's coping efforts in order to effectively overcome these stressors is the best way to help your child successfully navigate the start of the new school year.
These are just a few steps and tools that will help your child cope with the back to school blues: 
Recognize and Acknowledge their Worries– By just letting your child know that you recognize and understand their worries can automatically alleviate some of the stress and worry they are experiencing.
Make Plans for Tough Situations– If your child is worried about a particular situation you can help your child figure out a plan for handling it. For instance, if your child says, "What if I have no one to play with at recess?" ask, "What could you do in that situation?" and then assist them in brainstorming solutions or offer suggestions. With young children, it may help to point out that teachers and even the principal will be available to help. With older children, you may want to emphasize that other kids will be dealing with the same problems.
Provide as much predictability and control as possible-This could mean visiting a new school before opening day, finding a photo of your child's new teacher on the school website, or printing out a floor plan of the school to let your child plan a route between classes. By providing predictability your child will begin to feel empowered and the stress will gradually go away.
Overall, the most important thing you can do to ease back-to-school worries is to share your confidence in your child's ability to cope. Children tend to look to their parents to help gauge, "How dangerous is this new situation?" If you are calmly optimistic that your child will manage the back-to-school transition, it makes it easier for your child to be optimistic too and overcome their back to school blues.
Jessica Burrows is a Licensed Professional Counselor who currently specializes in teens and adults who struggle with anxiety, depression, and life transitions. She is the owner of NextGen Counseling, PLLC located in Flower Mound.  For more information regarding the services she or her team may provide for you or your family please call 940-228-2171 or visit www.nextgencounseling.org.