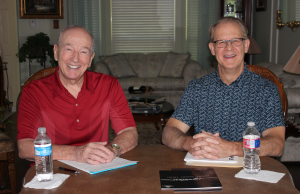 With a population of seniors living longer and more fruitfully, their retirement needs have led to a growing market for senior housing developments with a variety of price tags.
Residential developers have seen the vision and are working assiduously to accommodate those needs. Many cities and towns have already built senior communities with amenities to suit everyone's comfort and style of living.
Paul Milosevich is the developer of a new Senior Independent Living Community, Watermere at Flower Mound, that is proposed to be built adjacent to Valley Creek Church. In the interview Mr. Milosivich talks about Watermere in Frisco and Southlake; specifically the various services offered; the comfortable surroundings and the price ranges. The following link: www.watermerefrisco.com provides information and photos of their Frisco development, which will give viewers a magnificent example of the well-appointed community being planned for our town. The info below has been taken from that website.
"The Watermere vision sets our communities apart from the standard, one-size-fits-all retirement lifestyle. Customizable Lifestyle Options – Watermere believes that a traditional, uniform retirement no longer meets the needs of an ever-changing senior population. In this day and age, retirees rightfully want the choice and flexibility to live the retirement they envisioned for themselves, not one someone else created for them. Here at Watermere, you can create a package of services that is uniquely catered to you, with the ability to make adjustments as your needs and wants change in the future.
"Value-Driven Concept – At Watermere we understand protecting your hard-earned money is an important part of supporting a secure plan for your future. With this in mind, we strive to integrate the concept of value throughout each facet of our community. We offer a wide array of residence options to help meet various budgets, we don't charge large entrance fees, and we don't force our residents to pay for services that they do not want or use.
"Retire in Luxury – Watermere is changing the face of retirement for today's active adults and offering an exciting new approach to retirement lifestyle by helping you live the life you've always dreamed of in a stunning and vibrant environment. With a resort-style clubhouse and array of distinguished amenities, you're sure to appreciate the quality and comfort of your new home.
"Resident-Centered Culture – The Watermere culture is based on a resident-centered environment. Our activity programming and lifestyle options are built through integration of our residents' values, interests, pleasures, and hobbies, to bring you a personalized experience.
"Variety of Residences – To best accommodate the needs and desires of each potential resident, we offer a variety of spacious one, two, and three-bedroom floor plans. When it comes to living at our community, we never want our residents to feel like they are anywhere but home."