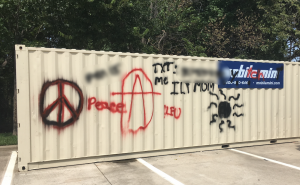 The Bartonville Police Department is seeking the public's help identifying the graffiti artist or artists who tagged a large container behind Bartonville Town Center.
Bartonville police shared a photo of the graffiti on social media on Wednesday asked anyone with information about who the artist(s) might be to contact the police department.
It is the second time that the graffiti has made an appearance in Bartonville this summer. Someone spray-painted the old Bartonville Store, located in the northwest corner of Jeter Road East and McMakin Road, last month.