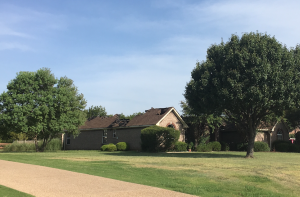 Three people were displaced early Friday morning after a fire severely damaged their home in The Hills of Argyle neighborhood.
Denton Fire Department spokesman David Boots said the call came in for a fire "fully involved" in the back of the house on Snowshill Court around 12:30 a.m. Friday. Firefighters responded and were able to douse the flames and clear the scene by 4 a.m.
The fire caused severe damage and displaced the three residents of the home, Boots said. The cause of the fire was unknown, as of late Friday morning, and investigators were still trying to determine it. No one was injured in the blaze.
Despite its name, The Hills of Argyle is located within the city of Denton.