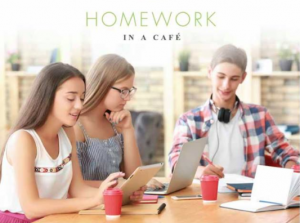 The Argyle Independent School District has partnered with an after-school coaching program to help students complete homework in a relaxing setting.
Homework in a Cafe is a program that gives middle school kids the relaxed ambience of a cafe and the freedom they need, but under the guidance of mentors, according to the Homework in a Cafe website. Students work individually or in a group with guidance from coaches and mentors focusing on homework, academic and life skills, time management and communication.
The Argyle ISD announced this week that Homework in a Cafe is an Eagle Partner for the 2018-19 school year for Argyle Middle School students.
The Homework in a Cafe website lists three class locations, one in Coppell and two in Flower Mound: Epic Gelato, 2400 Lakeside Parkway Suite 100, and Snow Village Cafe, 2601 Flower Mound Road Suite 111. According to a flyer that Argyle ISD posted on Facebook, there will be two more locations available to local students: Kimzey's Coffee Shop, 429 Hwy 377 North in Argyle, and Starbucks, 2031 Justin Road Suite 311 in Flower Mound.
Spaces in Homework in a Cafe are limited. For more information, call 972-333-4663, email [email protected], or click here.