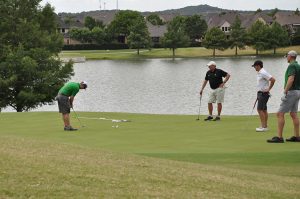 Local golfers got together this month for the longest-running Denton County charity golf event and raised nearly $50,000 for the United Way of Denton County.
The course at the Denton Country Club, near Argyle, buzzed with activity June 18 for the 28th Annual People Helping People Golf Tournament, which generated $49,640 for the local United Way, according to a United Way news release.
One of only two outside events held at the members-only Denton Country Club, People Helping People brought out 119 golfers representing various Denton County companies and organizations to hit the course for a scramble format friendly competition. Eight vehicle dealerships presented the tournament, including American Eagle Harley-Davidson, Bill Utter Ford, Classic Chrysler-Jeep-Dodge-Mazda, Honda of Denton, Huffines, James Wood, Toyota of Denton and new partner Gunn Nissan.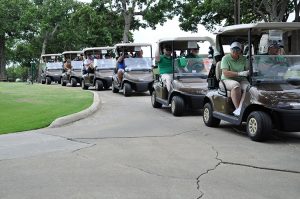 "Special thanks to the vehicle dealerships for their steadfast support of this long-running event," said Gary Henderson, President & CEO of United Way of Denton County. "Their generosity and dedication make this event happen year after year, helping us improve lives of more than 80,000 people in Denton County."
Started in 1991 at the old UNT Golf Course, the People Helping People Golf Tournament has raised more than $645,000 to support United Way of Denton County's mission to improve lives, according to the news release.
"There is not a better thing to be involved with than United Way of Denton County," tournament co-chair Carl Anderson of Bill Utter Ford told the crowd during the 19th Hole Celebration. "I can't thank them enough for what they do in our community."