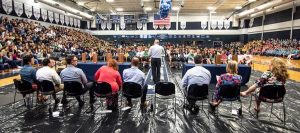 Liberty Christian students won the overall state championship from the Texas Association of Private and Parochial Schools (TAPPS), which named Liberty Christian its top 6A private school for the fifth time in six years.
During the year, more than 25 schools in the largest division of TAPPS acquired points in academic, fine arts and athletic competitions that contributed toward overall standings.
Students at the Argyle private school celebrated the overall championship with an all-school assembly and celebration on May 22.
"While the trophy is not our ultimate goal, it is evidence of the excellence that we are striving for here at Liberty," President Blair McCullough said. "Liberty's points provides a true reflection of the gifts and abilities of students, faculty, and staff, displaying a balance in academics, fine arts, and athletics achievements."
Liberty began in 1983 and first won the TAPPS Henderson Cup State Championship in 1997, then went on to win it again in 2004, 2005, 2007, 2008, 2009, 2010, 2013, 2014, 2015, 2016, and now 2018.
"To win the Henderson Cup even once is a huge feat many schools never realize," he said. "To win it a dozen times is a momentous accomplishment!"
Just this year, students won the following in TAPPS: art first in state for the fourth time in five years, choir first in state for the second year in a row, band first in state for the fifth time in seven years, dance team second in state for the second year in a row, cheerleaders first in state for the fourth year in a row, boys tennis first in state for the first time in school history, wrestling first in state for the third year in a row, baseball first in state for the fourth time in school history, boys cross country third in state, boys track and field second in state, and girls track and field third in state. Teams that also scored points toward the overall championship include academics, football, girls basketball, girls cross country, girls soccer, softball, and volleyball.
The assembly included student videos, worship, prayer, and celebration. Fine Arts Director Misty Baptiste congratulated students who competed academically and artistically, and Athletic Director Zack Vest thanked students who competed athletically.
Students then lined the halls and cheered for members of the Class of 2018 as they prepared for graduation night.