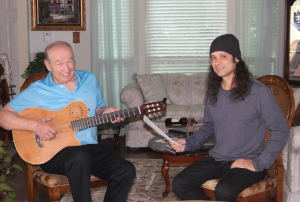 In case you've not attended any live outdoor performances of the Lakeside Music Series in Flower Mound, I'm here to tell you that you're missing some magnificent entertainment!
The good news is that you can see and hear the latest in musical excellence this Friday, May 4, from 7:30-9:30 p.m. at the Shops at Lakeside.
Guitar virtuoso Russ Hewitt will bring rumba flamenco rhythms and lightning-fast runs to the popular entertainment area at FM 2499 and Lakeside Parkway.
Hewitt will help us celebrate Cinco de Mayo Eve along with a couple of his talented friends. They will perform Russ' award-winning sound at the Lakeside Music Series for the first time since October of 2016. Hewitt won a silver Global Music Award for the type of music that has been the trademark of his distinctive style; a style that's sure to keep you spellbound.
Those interested in some fine dining, followed by electrifying outdoor music performances, can choose from one of Lakeside's splendid restaurants, then complete the evening by stepping over to the plaza area to enjoy a free concert by some of the best musicians in the metroplex.
During the video interview below Mr. Hewitt talks about his start in the music business, some of his favorite tunes and his future plans. In addition, he plays some of the music he'll be performing at the Lakeside venue on Friday evening. For more info on Russ visit: www.russhewittmusic.com.
Bob Weir is a former NYPD officer, long-time Flower Mound resident and former local newspaper editor.