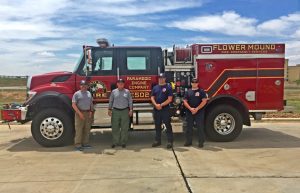 Four Flower Mound Fire Department members were deployed Wednesday to far West Texas to help fight a large wildfire.
The FMFD firefighters, along with a brush fire truck, were deployed to Jeff Davis County to provide support in battling the 12,000-acre wildfire known as the McDannald Fire, according to a town news release. The wildfire is threatening 400 homes with ongoing evacuations in the Davis Mountain Resort Community.
The deployment is under the Texas Intrastate Mutual Aid System and part of a larger strike team that included members from the Dallas, Frisco, and McKinney fire departments.