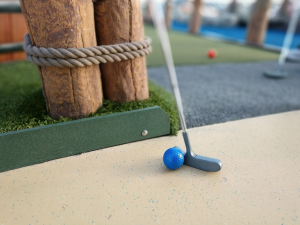 Residents will gather next week for a fun evening of miniature golf, music and food in an event benefiting a local nonprofit.
The seventh annual event will be held at Zone Action Park, 1951 Summit Ave in Lewisville, on Tuesday and will benefit Winning the Fight, a local organization that provides drug education, support, and resources to families suffering from addiction.
After 18-year-old Brett Morgan O'Keefe died from an accidental drug overdose in March 2010, his mother, Kathy O'Keefe of Flower Mound, "knew we had to do something" about drug addiction. She founded Winning the Fight to spread more awareness about the dangers of drugs — including prescriptions — among kids and their parents.
The mini golf event runs from 6-9 p.m., and in addition to putt-putt, there will be a silent auction and raffle giveaways throughout the evening. Tickets are $25 for adults and $10 for kids 16 and under. Click here for more information about WTF and the event.