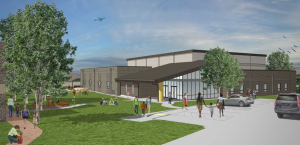 Coram Deo Academy will celebrate the grand opening Saturday of a new multipurpose building on its Flower Mound campus.
The new 27,000 square foot multipurpose building that is centered around a gymnasium that will also be utilized as a performing arts platform, according to a news release. The state-of-the-art building can withstand extremely high winds and can provide shelter to about 500 people.
Coram Deo Academy, 4900 Wichita Trail, is hosting an open house event on Saturday from 4-5 p.m., with a ribbon-cutting ceremony from 5-6 p.m. After that, the academy's annual Night of Art begins, showcasing award-winning work of the academy's visual arts students. Food trucks will be on-site from 4-8 p.m.