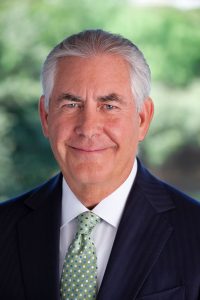 Bartonville's Rex Tillerson will soon "return to private life" after President Donald Trump fired him from his post as U.S. Secretary of State.
Trump announced on Twitter on Tuesday morning that Mike Pompeo, director of the CIA, would be the next Secretary of State.
"Thank you to Rex Tillerson for his service!" he said in the tweet.
Citing the Iran nuclear deal and other issues, Trump said he and Tillerson were "not really thinking the same," according to the Associated Press.
"I think Rex will be much happier now," Trump said before flying to California.
Tillerson, the former CEO of Exxon Mobil, served as Secretary of State for about a year.
Tillerson's voice quavered as he spoke in a press conference Tuesday afternoon, in which he said he will help make sure the transition to Pompeo goes smoothly. He will delegate authority to Deputy Secretary John Sullivan and remain Secretary in name until March 31, according to the AP.
"I will now return to private life, private citizen, a proud American, proud of the opportunity I've had to serve my country," Tillerson said in the press conference.
U.S. Representative Michael Burgess, TX-26, who represents Denton County, issued a statement Tuesday afternoon in response to Tillerson's firing.
"Secretary Rex Tillerson, a constituent of the 26th District, has served our nation honorably as both a private citizen and public servant," Burgess said in the statement. "As a former leader in the energy industry, Secretary Tillerson never hesitated to make himself available as a resource to the Energy and Commerce Committee as we considered complex legislation. I am especially grateful for his engagement during the Deepwater Horizon investigation conducted by the Energy and Commerce Subcommittee on Oversight and Investigations. More recently as our chief diplomat, Secretary Tillerson worked to support American interests abroad. I thank my fellow Texan for his service, and wish him every success in his future endeavors."