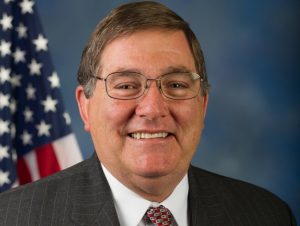 Rep. Michael Burgess, M.D.,  who represents southern Denton County in the U.S. House of Representatives, was not injured Wednesday when a train carrying dozens of Republican members of Congress struck a truck in rural Virginia.
The GOP members of Congress were headed to a policy retreat in the countryside when the train slammed into a garbage truck. One person  in the truck was killed and several lawmaker-doctors rushed to help the injured, according to the Associated Press.
Dr. Michael Burgess — serving Texas' 26th district, which is most of Denton County — was not injured and,"he helped to administer aid to victims — like he does during any emergency," according to a statement from his spokesperson, Emma Thomson.
Burgess later posted on Twitter the following statement: "I appreciate the time people have taken to reach out to myself and other GOP Members involved in the train accident this morning. Today is a tragic day for those who were hurt. Please continue to pray for victims and their families."
No serious injuries were reported among those riding on the train; a chartered Amtrak that left Washington, D.C., with lawmakers and staff headed for the luxury Greenbrier resort in White Sulphur Springs, West Virginia, the AP reported. At least two people in the truck were reported seriously hurt.
Authorities gave no details on the cause for the truck being on the tracks at a crossing protected by gates, flashing lights, bells and warning signs, reported  the AP.
The National Transportation Safety Board has sent a team to investigate.