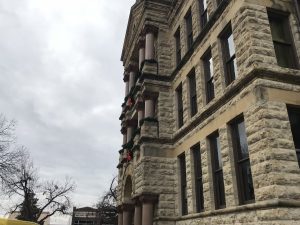 The Denton County Courthouse-on-the-Square is expected to open Monday to government business.
The historic museum, however, likely won't open anytime soon.
A four-alarm fire broke out in the early morning hours of Dec. 26 at the Downtown Mini Mall on the Denton Square, destroying that business and causing smoke damage to several other businesses and buildings in the Square, including the courthouse.
Denton County government operations that usually took place at the courthouse, including the County Commissioners Court, were temporarily moved to other locations. The county confirmed on social media this week that county staff and officials are planning to return to the courthouse on Monday.
Not everything will be back to normal, though. Denton County Museum Director Peggy Riddle told NBC 5 that she saw security footage of smoke blowing into the building and into the museum, causing soot damage to many of the museum's artifacts. It could take up to a year until the museum can open again.