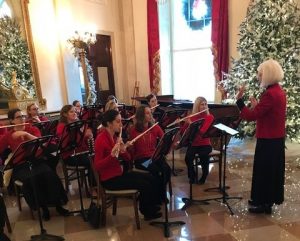 On December 16th my wife Annette and I had the great pleasure and distinct honor of visiting the White House for their spectacular Christmas Open House. Thanks to a Republican friend, with enough influence to garner some invitations, we were able to spend time inside those hallowed halls representing the greatest country on earth!
Walking from room to room, one gets a sense of the history behind every selection of furniture, framed portrait and architectural design that majestically graces the 132 room mansion overlooking the Potomac River. One begins to visualize some of our country's leading statesmen walking along those corridors with other world leaders as they negotiate war strategy, trade policy, national security and America's role in the Space Race.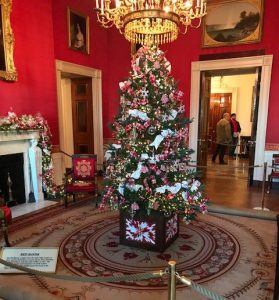 To realize that you're standing in a building that symbolizes more than two centuries of freedom, security and prosperity for hundreds of millions of Americans and the hopes and dreams of countless millions around the globe, who aspire with eager anticipation to join with us, is to fully grasp the luxury of U.S. citizenship. Sadly, there are some who, like spoiled children, look for every excuse to criticize that which they never had to strive for or earn, but merely had it bequeathed to them like the lazy, ungrateful heirs to a fortune earned by an ambitious family of industrialists. As Christians we can only pray for those too blind to see the advantages of their magnificent inheritance.
Our long weekend visit to DC began with a Friday morning flight from DFW Airport to our nation's capital. We had reserved two nights at Trump International Hotel on Pennsylvania Avenue, just four blocks from the White House. Formerly, the historic Old Post Office, Trump International has been restored to a magnificent level of opulence that captivates your senses from the moment those giant oak and ribbed-glass portals are opened for you by smiling, courteous doormen who provide a pleasant introduction to a world-class establishment. The sights and sounds of Christmas (including the word "Christmas") were ubiquitous throughout the huge and elegantly decorated Grand Lobby. Our room was spacious and splendidly appointed, including push button drapes on three of the four walls which housed 20-foot-high windows that overlooked the avenue and gave a view of some monuments dotting the landscape.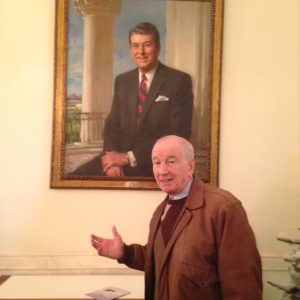 It was cold and rainy when we arrived, so we enjoyed the warmth and comfort of the lobby as we dived into some lobster bisque with whole grain rye bread and assorted cheeses. With the hot soup to bolster us and our hats and coats securely fastened we did some brisk walking along Pennsylvania Ave during a light mist. After about an hour of sightseeing we realized we were a bit too damp and chilled to attempt the long walk back, so, we hailed a cab. Back in the lobby, the scents and sights of food were once again on ample display. We were told that the Trump's will occasionally dine mid-evening at BLT Prime, an elegant steakhouse on the second floor with a bird's eye view of the Grand Lobby.
As soon as Annette heard that she made a reservation. We were seated at 7, sipped our drinks slowly, ordered our appetizers late, and our main course even later, all in anticipation of seeing the President and First Lady emerge on the scene. After more than two hours of wine, salad, veal chops and Crème Brulee, Annette still wasn't convinced that the Trump's had chosen another place to employ their knives and forks. As the waiter began clearing the table he asked if we'd like anything else. The look on my wife's face told me that I did in fact want something else. Two cups of Decaf later, with my eyes beginning to get heavy, she finally gave up the wishful quest.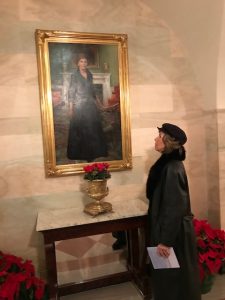 The next day was memorable because of the White House visit and the security involved in getting inside. We took a cab to the security gate entrance on 15th Street at Alexander Hamilton Ave. After Secret Service personnel checked our invitation and credentials we were ushered toward a path that led to a room attached to the White House. More uniformed SS people checked us again and walked us through a metal detector. After a few more minutes of pleasant, but thorough scrutiny, we stepped into one of the corridors that led to beautifully decorated rooms with Christmas ornaments everywhere.
Hoping once again that a miracle would occur and the First Couple would make an appearance, we lingered for awhile next to a choir as they sang familiar Christmas carols. Alas, we didn't get that wish, but we felt fortunate indeed for the numerous wishes answered by President Trump since he became the Chief Executive in January and began making America great again!