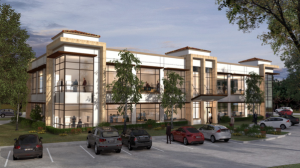 Realty Capital Management announced Thursday that it is set to break ground on the first Class-A office building in the new Lakeside Business District.
The Lakeside Professional Office building, a 21,750 square foot speculative office building, will be located at the southeast corner of Lakeside Parkway and FM 2499 in Flower Mound, according to a Realty Capital news release.
Set to be complete in the summer of 2018, the future Lakeside Professional Office building will be "ideal for entrepreneurial businesses or corporate tenants seeking a small regional office," the news release said, citing its location being convenient to major thoroughfares including FM 2499, Highways 121 and 114, Interstate 635, and minutes to DFW International Airport.
"With all of the amenities in Lakeside DFW, including restaurant, boutique retail, and service providers, this project makes for a great office location where people can walk to use and enjoy all of the amenities within Lakeside DFW," said Jimmy Archie, managing director of Realty Capital Management, in a prepared statement. "There are a lot of entrepreneurial and corporate decision makers who live in Flower Mound. This building provides them a place to office near their home while still locating their office where it is easily accessible for their employees who live outside of Flower Mound."
Lakeside Professional Office building will sit across 2499 from Lakeside and adjacent to the newly-opened 7-Eleven store and a restaurant-ready pad site.
Realty Capital Management is also under construction on the $75 million, 16-story, 54-unit luxury condominium tower on Lake Grapevine called The Lakeside Tower.