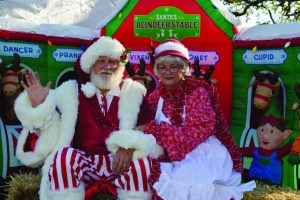 Flower Mound is losing its Santa's Village after this Christmas season.
Bill and Bonnie Leech have invited the community to their home for over 15 years to celebrate the joys of Christmas. Their Christmas display, known as Santa's Village, features blow-ups, lights, music, decorations, a display of over 300 ceramic Christmas houses and, sometimes, family Christmas movies.
This year, though, is the last one for Santa's Village, Bonnie announced on Facebook. She said in a comment on her post that the huge home transformation gets harder to set up each year as they get older.
The free Santa's Village, 951 Forest Vista Drive, is open nightly — weather permitting — from 6-9 p.m., and "Santa will be out on the weekends, but can often be seen during the week," Bonnie wrote. "Santa's Village is best enjoyed by parking on the east side of the property and walking around with the family!"
Santa's Village is a local favorite, and the Leeches hav enjoyed putting it on each year.
"It's just something we want to give back to the community, family and friends," Bonnie Leech told the Cross Timbers Gazette last year. "And the response has been fantastic. Parents tell us that their kids are waiting every day and asking 'is it up yet, is it up yet?'"
Starting in June, Bill Leech begins his annual transformation into Santa Claus, complete with white beard, hair, and an assortment of jolly outfits, and Bonnie joins him as Mrs. Claus.
"I think it really sends the message of Christmas," Bonnie Leech said. "The center point there is the nativity scene, so we just want to keep the ideas of love, and sharing and Christmas with everybody and share it with our neighbors."