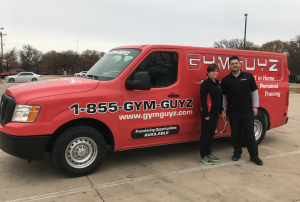 One of Flower Mound's newest businesses understands the obstacles of regularly going to the gym, and instead, GymGuyz brings the gym and the personal trainer to your home.
Husband and wife Steve and Kristin Clark had spent most of their adult lives working in the corporate world — he worked in sales, she worked in marketing — but Kristin was laid off a couple years ago and Steve was laid off from his job this spring. "Instead of getting back on that rat wheel of corporate life," Kristin said, they decided to look into going into business for themselves.
The Clarks, who live in Flower Mound, came across GymGuyz, a growing nationwide company that fills vans with workout equipment and sends personal trainers to customers' homes. They provide convenient, customized and creative workouts for any residents, whether they are looking to lose weight, gain muscle or any other physical goal.
"We love the concept because it is very new and different," Kristin Clark said. "Personal trainers are doing this, going into homes and training, but the neat thing about the GymGuyz franchise is that it's the first time somebody's taken it national."
Kristin Clark said since GymGuyz is a relatively new company, they were able to get the Flower Mound area, "which was hugely important to us."
The Clarks quickly recruited some trainers and hired Michael John, a certified personal trainer since 2011 with a masters degree in athletic training. The Clarks launched GymGuyz North DFW on Dec. 1, and they service two areas on either side of Grapevine Lake — one area covers Argyle, Flower Mound, Highland Village and part of Lewisville, and the other encompasses Colleyville, Keller and Southlake.
For more information, click here or call 214-207-5887.