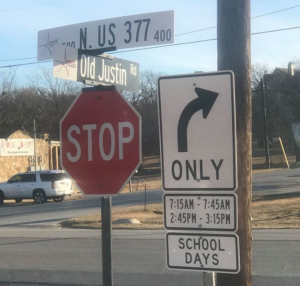 The town of Argyle installed a new sign to relieve traffic backups during school dropoff/pickup times.
The new sign was put up for eastbound traffic on Old Justin Road at the intersection with Hwy 377, which is near Argyle Intermediate School. Police shared a photo of the new sign on social media on Monday.
Now, vehicles can not turn left onto 377 between 7:15-7:45 a.m. and 2:45-3:15 p.m. on school days.
Argyle Town Council decided to have the sign put up to relieve traffic backup caused by vehicles waiting to turn left onto the busy highway, according to the Argyle ISD Police Department.