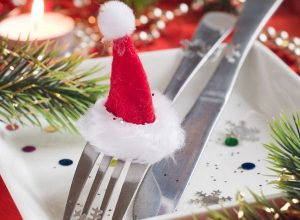 Holiday Party Season has officially begun! Many of you are wondering where in town you can host your private company, family or friend get-together. So, we've compiled this list of local restaurants with space you can rent out for your party needs.
Yellow Rose Steak & Chop House 
Located in Parker Square, Yellow Rose has a fantastic private room that will easily seat 20-30 people. Your party guests can enjoy their steakhouse cuisine with favorites like the lobster tail, steaks, and Double-Cut New Zealand pork chops. You can make reservations online or by calling 972-899-9820.
Salerno's 
This Flower Mound institution has a large, private room just off their patio that is perfect for all kinds of events. If you have a larger crowd, this might be a great option for you. Plus, you'll get to enjoy classic Italian dishes as well as some of their originals like their famous Steak Salerno. You can make reservations by calling 972-539-9534.
Carvao Prime Brazilian Steakhouse 
To treat your party guests to something a little different, you can reserve Carvao's private room which is equipped with audio and visual equipment. You can dine from their salad bar with over 60 items, and enjoy their 18 cuts of meat served up churrasco-style. They also have an incredible bar your guests are sure to enjoy. To reserve their private room, call 972-539-8555.
Alforno's Italian Kitchen 
We love this Italian institution here in Flower Mound and they also have a great private room for parties. If your party guests love Italian cuisine, this is a great option to host your party at. Call 972-355-1709.
Gabriela & Sofia's 
Believe it or not, Mexican food is a Christmas tradition for some families! So, treating your party guests to some authentic Mexican cuisine at Gabriela & Sofia's in Parker Square would be just that – a treat! And their bar is amazing! If you haven't seen the way they pour their tap beers, you and your guests will love it. Call 972-899-2368 for reservations.
Bistecca 
I can't think of many ways to better spend a holiday party than by eating some of Chef Morris Salerno's food. Bistecca has catering menus designed to fit whatever your needs are, so call 972-318-0515 to discuss menu and pricing for your event.
Cristina's 
The Cristina's in West Flower Mound has a large private space you can reserve. This is another great option if you and your guests love Mexican food. Their fajitas are fantastic and would be great for serving a large group of people. You can request information on their website or call the Flower Mound location at 817-430-3669.
Bari's 
We've hosted a couple of our own private events at Bari's. They have a large room in the back that can be closed off for privacy. You can go as casual as pizzas and salad, or order some of their classic Italian dishes. Call 972-539-7091 to reserve the space.
Fresco's 
Fresco's in Highland Village is a beautiful space and they have room to accommodate parties of any size. They've hosted everything from small, intimate get-togethers to rehearsal dinners to high school reunions. Your guests will love their steak fajitas and their tableside guacamole. Call them at 972-317-3628 to talk about your private event.