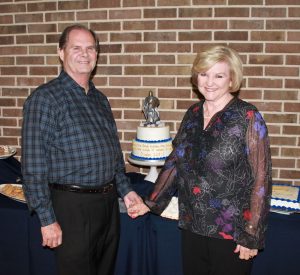 Liberty Christian School hosted a retirement reception on Saturday for its president and founder, who recently announced that he would retire.
Dr. Rodney Haire announced in August that after 34 years, he was retiring from the school he started with his wife, Judy. More than 125 people — including current and former staff members, parents, alumni and grandparents — attended the reception at the school, according to a school news release.
Haire thanked the audience for their support over the years and shared some of the most memorable stories from his time at LCS.
He told the story when, in the early 1990s, he sensed God wanting him to share the gospel after a Lower School Christmas concert. He said he will never forget when more than 60 hands in the audience went up as parents, grandparents, and guests showed they wanted to have Jesus in their lives, according to the news release.
Haire said that Liberty Christian School surrounds students with teachers, coaches and directors who love them.
"We have to keep that going," he said. "I'm not sure if I could diagram a sentence today or answer a complex math problem, but I don't think that is what is most important. In the grand scheme of things, what matters is where their heart is."
Haire told the audience that Headmaster Blair McCullough will do a good job leading the school.
"He is a great educator who loves children and loves Jesus," Haire said. "He'll take our students where they will be able to compete in any arena. I am so grateful God brought him and his wife to our school."
Haire also thanked several people, including his wife, Judy, who prayed and trusted God faithfully in the early days, the news release said.
"When you are starting something and just lifting off, it is really tough," he said. "It's easier to fly when you're already off the ground."