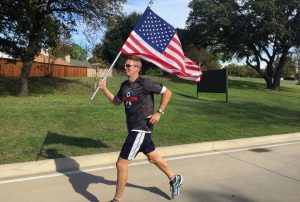 The town of Flower Mound has extended its deadline to register for its fourth annual Veterans Day Relay Run.
The town is looking for relay participants to run a portion of a pre-determined 45-mile route around Flower Mound between 9 a.m. and 5 p.m. on Nov. 10, which is when Veterans Day is being observed. Each relay runner will run approximately one to two mile sections, commemorating America's veterans and their service by carrying the American flag, according to a town news release.
The course will start and end at the Flower Mound Community Activity Center, 1200 Gerault Road, and the run will be followed by a celebration from 5 to 6 p.m. at the CAC.
Relay runners must be registered by 5 p.m. Friday. All runners will receive a commemorative T-shirt, and priority will be given to local veterans who register to participate and those running in honor of a veteran family member, according to the town.
As in years past, everyone is invited to run the final mile. Interested residents should meet at Shadow Ridge Middle School, 2050 Aberdeen Drive, at about 4:15 p.m. to run in the final leg to the CAC.
The Town is also looking for organizations or businesses to sponsor the Veterans Day Relay Run, according to the news release. This year, all proceeds will go to support the Veterans Collaborative of North Texas, a nonprofit organization which helps veterans and their families obtain affordable housing in Denton County.
Click here to register for the run, to become a sponsor and to find more information about the run.