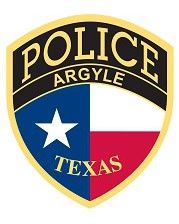 The following is a summary of incident reports recently made to the Argyle Police Department as compiled by the staff of The CTG:
On June 21 at 8:22 p.m., some new residents from Atlanta called Argyle police and wanted information on Texas laws.
On June 22 at 1:08 p.m., a man who had just received a gun for his birthday wanted to try it out so he fired shots in the rear of his 13-acre property. He received a warning.
On June 22 at 9:06 p.m., a horse and a donkey crossed the 400 block of East FM 407. Their owner was advised of their whereabouts.
On June 24 at 10:45 p.m., someone who works for the Country Lakes HOA was cleaning out the cabana area at the neighborhood pool and starting "hearing sexual sounds." Three females and one male were on the playground and when they saw the HOA official, they took off running.
On June 27 at 5:28 a.m., three unlocked vehicles were found to have been burglarized on Meandering Creek Drive. It was unknown what was taken.
On July 3 at 3:23 a.m., an officer saw three mailboxes on East Hickory Hill Road had been damaged, apparently by someone playing "mailbox baseball."
On July 4 at 10:10 a.m., an officer spoke to bicyclists after witnessing the cyclists passing a vehicle, which was stopped at a stop sign in the 100 block of Denton Street, on the left to try to catch up to their group. They were nearly hit by the vehicle, which was turning left as they began passing.
On July 5 at 6:17 p.m., a resident reported someone was in their home on Bent Creek Cove who shouldn't be. It was found to be an Amazon delivery person who opened the front door and set a package inside.
On July 12 at 9:23 a.m., a man reported that he was housesitting for a friend and he left the home for about five-and-a-half hours. When he returned, the cash that the homeowner had left on the kitchen counter for him and the house cleaners was gone and the back door was open. Nothing in the house appeared to be messed with, and the man's laptop, which was near the cash, was not taken.
On July 14 at 11:39 a.m., a tow truck was towing a vehicle on Interstate 35W southbound and the vehicle caught on fire. The driver noticed as the vehicle was passing into Argyle and pulled over. The Denton Fire Department put out the fire.
On July 18 at 6:02 p.m., an employee at Subway reported that a woman who came inside the restaurant "sounds nuts" and asked the employee if she could live with her. Upon questioning, the woman told the officer she is trying to find her son in Frisco, but Frisco police won't help her. She left in her vehicle.
On July 18 at 6:29 p.m., a man reported that an unknown man keeps calling him saying he is "Mr. Johnson from the Moneygram department." The officer told him to block the number.
On July 19 at 10:27 a.m., an officer was driving on Westover Drive and "observed a child on a Power Wheels 4-wheeler. I stopped and gave him two stickers. Then I spoke with his grandmother for a few minutes."
On July 19 at 4:19 p.m., a man reported that in a road rage incident, a man pulled a gun on him around noon at the intersection of Hwy 377 and FM 407.
On July 21 at 5:46 p.m., a woman reported that as she was leaving Argyle Town Hall, she noticed her front license plate was missing.
On July 23 at 2:04 p.m., a man and woman in a vehicle were in an argument, and the man got out and began walking from the intersection of Hwy 377 and FM 407. The woman driving the vehicle stopped in the middle of Hwy 377 to try to talk to him, but he kept trying to walk away until an officer made contact with them.
On July 25 at 8:18 a.m., a motorist stopped at the Argyle Police station to ask for directions to the nearest fast food restaurant.
Police were called to a reported shooting in a house at 700 Cypress Street on July 21 at 4:20 a.m. Responding officers found Ryan Anthony Matthews, 31, performing CPR on a male victim in his 50's on the kitchen floor and a handgun on the table. An officer took Matthews out to his patrol car, where Matthews said he and the victim were in an altercation that became physical. The victim put Matthews in a headlock, Matthews told the officer, and "Matthews was able to break the hold when he retrieved his pistol and fired at (the victim), striking him in the neck. He then called 911 and began CPR," according to the arrest warrant affidavit. The victim was pronounced dead at the scene. Matthews was charged with first degree murder. It is believed to be the first homicide investigation by the Argyle Police Department, which was established in 1981.
On Aug. 11 at 4:14 p.m., a driver reported that two young men were driving in a silver Toyota Camry, passing a cigar or blunt and were swerving all over the road on Hwy 377.
On Aug. 12 at 3:23 a.m., someone reported a suspicious vehicle in the 5000 block of Keith Road. Police made contact with the person inside the vehicle who was sleeping inside the parked vehicle because they didn't want to wake up their parents by going home.
On Aug. 12 at 1:24 p.m., a woman, about 50-years-old, went swimming in a stranger's pool without permission. The homeowner was out of town and the house-sitter looked outside and saw the stranger sitting by the pool. The house-sitter called the homeowner, who said no one had permission to be there, but the gate was left unlocked. The woman had brought a towel, flip flops and sunscreen and got into the pool. She told the responding officer that she was visiting the family who lived next door. She was asked to leave, and she went back next door.
On Aug. 12 at 5:25 p.m., a man went to the police department because he collects police patches and wanted to make a trade.
On Aug. 14 at 4:53 p.m., police were called to move a large piece of furniture out of the right lane of Interstate 35W north of the FM 407 exit.
On Aug. 16 at 7:29 a.m., a calf ran out onto Hwy 377 near Country Club Road. The officer and the calf's owner were able to get it back to pasture in less than 10 minutes.
On Aug. 16 at 9:04 p.m., a driver reported that there was a large German Shepard lying dead in the road on FM 407 near Gibbons Road. The officer found it was a coyote, moved it to the shoulder and notified TxDOT.
On Aug. 17 at 8:12 p.m., a motorist at the intersection of FM 407 and the northbound Interstate 35W ramp reported that someone in a car pointed a gun at them.
On Aug. 19 at 7:45 a.m., a woman reported that her husband was driving on Interstate 35W near the FM 407 exit when he brake-checked a car behind him and the driver pointed a gun at them.