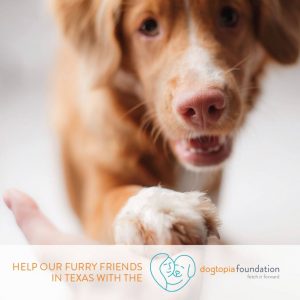 Dogtopia, a doggie daycare and spa in Highland Village, is raising money to help get lost dogs in South Texas back with their owners after Hurricane Harvey.
After Hurricane Katrina, about 15,000 pets were rescued in New Orleans and 90,000 went unaccounted for, according to a CNN report, and many fear that Harvey is having a similar effect on pets in the Houston area, said Christine George, manager of Dogtopia of Highland Village.
"It touches close to home, as Texans and as dog people," George said.
The Dogtopia Foundation is collecting funds from all Dogtopia locations to make a large donation to the Hurricane Harvey Relief Fund and S.A.V.E. Rescue Coalition, a nonprofit that reunites lost pets with families after the storm.
It will also help abandoned pets get adopted, George said.
Dogtopia has also pledged to match all donations made to the Dogtopia Foundation through the close of businesses on Sept. 13, up to $15,000.
Click here to donate online.