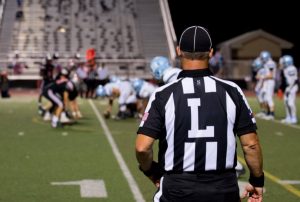 Argyle 42, Lucas Lovejoy 21
Argyle opened the season with a victory on Saturday, defeating Lovejoy by a score of 42-21 in the Tom Landry Classic at Allen Stadium.
This was the Eagle's 14th straight victory in their opening game of the season.
Argyle presented a very balanced offensive attack in the game, as Jon Copeland passed for 269 yards and three touchdowns for the Eagles, while Don Williams rushed for a 111 yards and two TD's.
Wes McCollum was the top receiver for the Eagles, catching four passes for 92 yards and a touchdown.
Copeland  was voted offensive MVP of the game and safety Jake Sullivan was named Defensive MVP.
Argyle will travel to Mary Hardin Baylor University in Belton to face La Grange at 7 p.m. on Friday Sept. 8, for its next game.
Flower Mound 44, W.T. White 0
The Flower Mound Jaguars pounded W.T. White in its season opener on Friday, building up a 34-0 halftime lead before winning 44-0.
Aaron Dixon rushed for 82 yards and three touchdowns, while Jackson Averitt finished with a passing and rushing touchdown for the Jaguars.
Clayton Stewart drilled a 46-yard field goal late in the third quarter to finish out the scoring for Flower Mound.
The Jags will play at Keller Fossil Ridge next Thursday, Sept. 7,  at 7 p.m.
Liberty Christian 21, Melissa 14
Andre Washington broke touchdown runs of 51 and 37 yards to lead the Liberty Christian football team to a 21-14 victory over Melissa on Friday night.
Collin Gamble caught a 22-yard pass from Grant Galyean to give the Warriors a 21-7 fourth quarter lead, and the Liberty defense came up with two turnovers in the game, as well.
Liberty Christian will host Celina at 7:30 p.m. on Friday, Sept. 8.
Marcus 21, Arlington Martin 16
The Marauders started off the season with a bang on Thursday night, defeating Arlington Martin.
Marcus running back Justin Dinka rushed for 241 yards and two touchdowns in the game to lead the way offensively for the Marauders.
On the defensive side, DB Daniel Sheehan intercepted a Bowie pass and returned it for a touchdown.
Marcus will host Arlington at 7:30 p.m. on Friday, Sept. 8.
Guyer 37, Mansfield Lake Ridge 21
The Guyer Wildcats overcame an 18-point deficit on Thursday night to win its season opener against Mansfield Lake Ridge.
The Eagles led 21-3 at the end of the first quarter, but Lake Ridge would not score again, as the Wildcats scored 34 unanswered points.
Kaedric Cobbs rushed for 116 yards and two touchdowns, while Devin Jefferson rushed for two touchdowns as well for Guyer.
Defensively, De'Ray Darthard had a 36-yard interception return for a touchdown.
Guyer will host DeSoto at 7 p.m. on Thursday, Sept. 7, in its next game.
Harmony 60, Coram Deo 24
Jackson Jarvis scored on a 50 yard touchdown run and Ryan Rogers broke one for a 35-yard TD, but the Lions came up short on Friday, losing to Harmony by a score of 60-24.
Caleb Johnson kicked a 30-yard field goal to get things started for the Lions, and Jarvis scored on a 45-yard touchdown run late for Coram Deo.
The Lions will play Gainesville State at 7:30 p.m. on Friday, Sept. 8, in Gainesville.