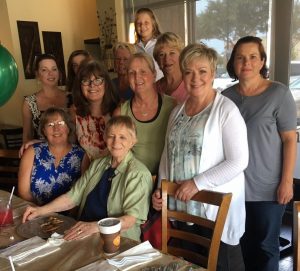 Green Oaks Estates is one of the oldest neighborhoods in Bartonville, in fact, it's located in the backyard of the Town Hall.
The ladies of Green Oaks have been getting together for over 30 years having luncheons, coffees, progressive dinners, Christmas cookie exchanges, and Halloween parties.
Last Tuesday, neighbors Cathy Arnold, Rhonda Balcar, Sarina Carrington, Kathy Daum, Teri Foringer, LaDonna Foringer, Samantha Foringer, Shelby Foringer, Lucy McKeever and Peggy Parks surprised Annemarie Moore on her 92nd birthday with a party at Palio's Pizza Cafe in Highland Village.
Annemarie has been a very supportive member of the Bartonville community since 1987. She served for 11 years as the Town Secretary and has faithfully attended council meetings since she moved to town.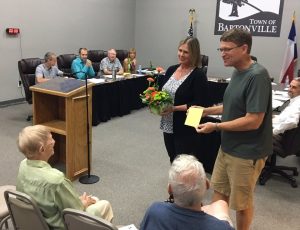 After her surprise luncheon, Annemarie attended the town council meeting and was again surprised when Bartonville Mayor Bill Scherer stopped the meeting and everyone wished her a "Happy Birthday" with cards and flowers.
Annemarie later sent her neighborhood a message saying, "92 years isn't all that bad when you can spend it with wonderful neighbors as I had the pleasure today."
The pleasure has been all ours, Annemarie!
Submitted by Cathy Arnold