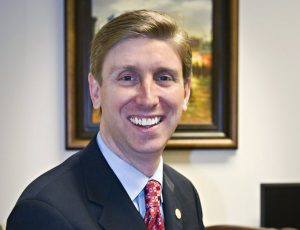 by State Representative Tan Parker
Here in the great state of Texas, it is again clear to me that there will always be one thing that I can count on indefinitely and that is the summer heat. Despite us being in the hottest month of the year, the focus is clearly on the fall and the start of school.
As families begin getting ready for the new school year, I want to remind everyone that the Tax-Free Weekend is August 11th through the 13th. After hearing from many local parents that the tax holiday needed to be moved to a more convenient weekend, I passed legislation to adjust the timing of this annual event to provide more families with the option to capitalize on this great tax savings advantage. As the father of two daughters, I can assure you that although the supply list seems to grow each year, so does my appreciation for being able to keep more money to use for the things my children need in the classroom.
While people are shifting their focus to the new school year, your Texas Legislature returned to the state's Capitol on July 18th for the start of a 30-day special session after completing the 85th Legislative Session. At the beginning of June, Governor Greg Abbott exercised his ability to call lawmakers back to address specific priorities for the future of Texas. Special sessions are different from regular legislative sessions in that a legislator can file a bill on the topic(s) of their choice, but unless granted by the Governor, the House or Senate cannot pass any legislation that is not on the call.
Your Texas Legislature was first tasked with passing legislation that will maintain the functions of several medical-related state agencies that were evaluated during the Sunset process, a system used to ensure agencies are properly operating and effective. These bills keep several of our state agencies operating, including the Texas Medical Board, State Board of Examiners of Psychologists, State Board of Marriage and Family Therapists, State Board of Examiners of Professional Counselors, and the State Board of Social Work Examiners.
After the Senate passed this important measure for the medical community, the Governor issued a second call to address items ranging from property tax relief to public school funding to furthering protections for the sanctity of life on July 20th. In addition to the items previously announced in June, Governor Abbott added another item, improving healthcare funding for TRS-Care (Teacher Retirement System) for our retired public school teachers.
Earlier this year, the TRS requested that the Legislature appropriate their agency more than $1 billion of extra assistance for the upcoming biennium to avoid a funding shortfall that would ultimately cause them to close their doors. Although the Texas House unanimously voted and passed a bill to fund TRS, this legislation failed to pass before the regular session ended. Since I have been in office, retired educators have sat down with me on numerous occasions to provide incredible wisdom about teaching our children. Undoubtedly, the wellbeing of those who have spent their lives ensuring that future generations get an education is a responsibility that we must not forget. I am pleased that Governor Abbott has added this issue to his list of priorities, and I look forward to working on finding a solution for some of Texas' most invaluable individuals.
While lawmakers continue the work in the special session this summer for the future of our great state, I want to share that with Governor Abbott's support, I have filed House Bill 208 to limit the growth of spending by our state government. Currently, under the Texas Constitution and our state statutes, the Legislature calculates a spending cap based on personal income growth statistics. However, these statistics pose a significant problem due to the fact that individual personal income tends to grow faster than the overall economy. To curb spending and reduce our reliance on inaccurate measures, House Bill 208 puts a limit in place that is based on a more accurate formula of both population and inflation rates. As lawmakers, we must be certain that our state government always operates at the lowest cost possible on behalf of taxpayers who are carrying the load everyday. I am certainly proud to take leadership on this fiscally responsible legislation that will limit the size of government for generations of Texans to come.
As always, it is an honor to serve you in the Texas House of Representatives, and I welcome your feedback on this and any other state issues especially as we continue the people's work during the special session.  Please feel free to contact me at my Capitol office at 512.463.0688, email at [email protected], or follow me on Facebook and Twitter, @tparker63.