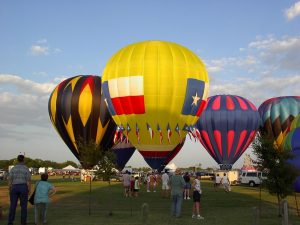 The 30th annual Highland Village Balloon Festival is just about a week away.
The Highland Village Lions Club event is set for Aug. 18-20 at Unity Park in Highland Village, and the schedule is packed full of family-friendly actives, including tethered balloon rides, live music and classic car show.
The best times to see mass balloon ascensions are, according to the website, around 7:15 p.m. on the 18th and 19th, and around 7 a.m. on the 19th and 20th. Balloon glows will be from 8:30-9 p.m. on the 18th and 19th.
At the Kids Zone, children can visit the petting zoo, jump in some bounce houses, ride the Boogie Woogie Choo Choo and take on the climbing wall.
Click here for more information about the event.