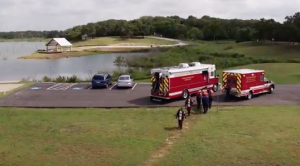 As summer continues, the Flower Mound Fire Department wants to remind residents to be safe out at the lake.
FMFD recently partnered with the Grapevine Fire Department and the Texas Game Warden to make a lake safety PSA video.
In the region, there were 111 reported drownings in the last five years. The PSA aims to increase awareness about preventable drownings and the importance of using a life jackets.
The one-and-a-half minute video shows a young man choose to enter the lake, presumably Grapevine Lake, without his life jacket. He goes under and doesn't come back up.
"A simple lapse in judgment can lead to irreversible consequences," the voiceover says as emergency dive crews search for the man. "Do your part by wearing a life jacket."
Click here to watch the video.