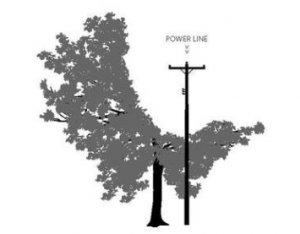 Oncor crews are currently trimming trees around power lines in Flower Mound.
Oncor began trimming trees in the Morriss and Cross Timbers Road area last week, according to a town of Flower Mound Facebook post.
Oncor is targeting specific areas in the town that have caused occasional power interruptions to hundreds of customers because of vegetation and/or wildlife, and the company intends to improve the reliability of service with the periodic tree trimming in the following areas, according to the town:
Old Settlers Road
Cross Timbers Road
McKamy Creek Road
Hide-A-Way Lane
Peninsula Drive
Quail Run
Beckworth Drive
If the trees on your property have been identified as needing a trim, Oncor will place a neon green informational door hanger on your front door, which includes Oncor contact information.
By state law, only professionals authorized by the power companies are allowed to prune or remove trees closer than six feet to high voltage power lines. They are legally allowed to enter private property to trim the trees. An arborist is part of the crew to ensure the trees are being cut properly, according to the town.
Oncor typically conducts its periodic tree trimming in the same place once every five years, but it has been seven years since the last trimming was done in Flower Mound.
If you would like a list of the town's authorized list of trees that are acceptable to plant near or under utility lines, email [email protected]