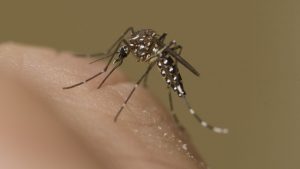 The city of Lewisville reported Monday that three more mosquito traps have tested positive for West Nile Virus, including one sample that was near the city's border with Flower Mound.
The positive samples were collected on Thursday from traps that had previously tested positive for West Nile Virus this year, according to a city news release.
The positive sample closest to Flower Mound was in the 500 block of Rachels Court. Positive samples were also collected from the 200 block of Highland Drive and the 600 block of Holfords Prairie Road. All three locations are core testing sites for the city.
They are the 10th, 11th and 12th positive West Nile Virus mosquito samples in Lewisville this year.
Ground spraying/fogging will be conducted in a half-mile radius of each testing location on Tuesday and Wednesday, beginning about 9 p.m. each night, weather permitting. The insecticide being used is registered with the Environmental Protection Agency and poses minimal risk to humans, pets and the environment.
Residents are encouraged to report any mosquito complaints to Chris McGinn at 972.219.3484.